Cuba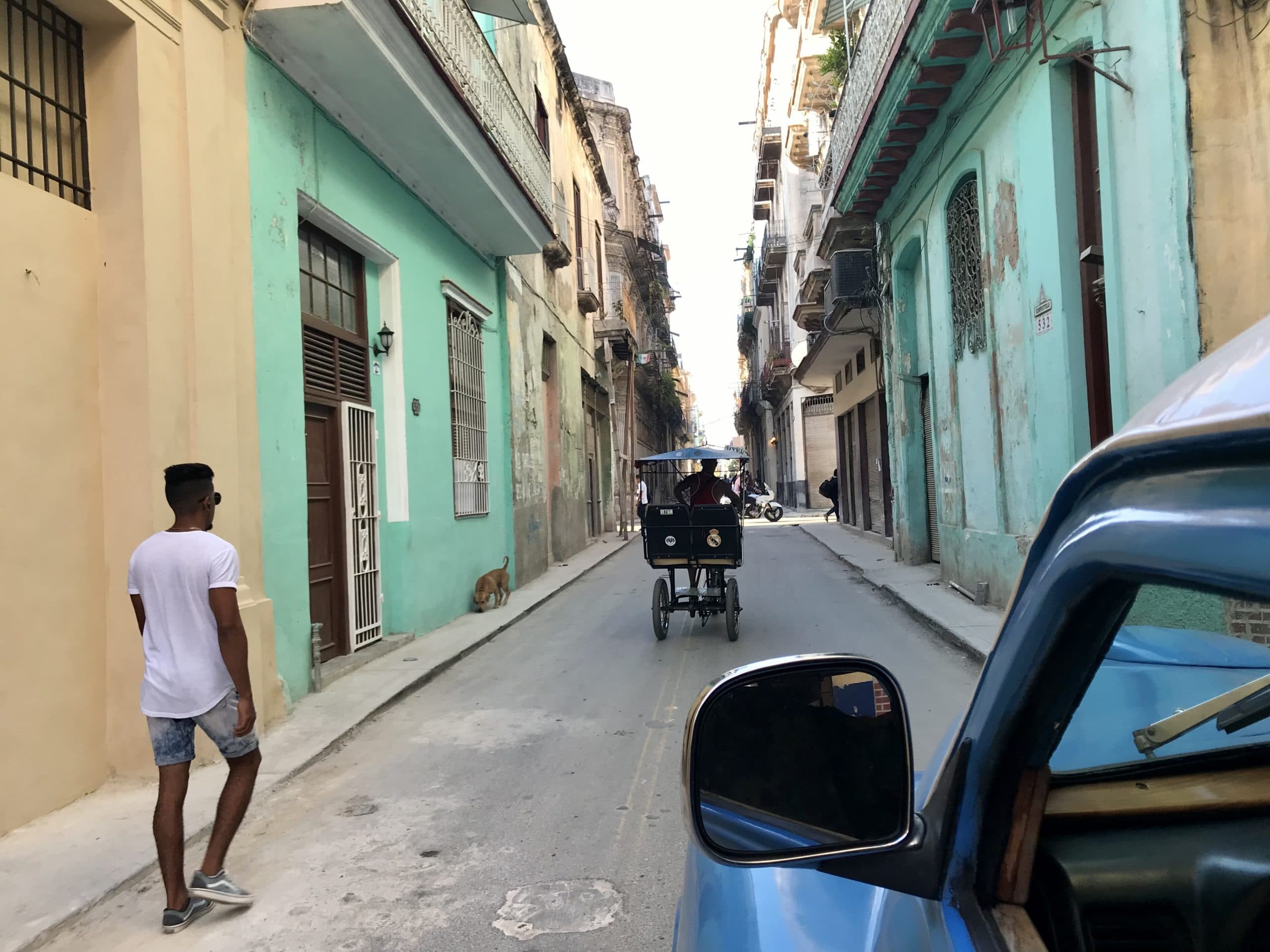 Cuba…"Es complicado."  "Tranquilo, Vannetta, estás in Cuba, tranquilo."   The two most common phrases I hear almost every day in Cuba.  It is complicated and difficult to understand at times, even for the Cubanos.  But..relax.  Chill. In this complicated, beautiful, vibrant country, we experience the best Cuba has to offer in the way of cuisine, visual and performance arts, history, flora and fauna, and time – time to savor every sound, taste, smell, sight, and touch – time to develop friendships, chat, smoke a cigar while sipping locally distilled ron, while you sit on the portal of your casa particular with your new Cuban family after a pleasant evening meal with them.
Diverse architectural styles are present in Cuba, especially throughout the old cities of Habana Vieja, one of my favorite places, as well as Cienfuegos, Trinidad, Camagüey, Santiago de Cuba, and Sancti Spiritus. Longstanding forts, elegant stone churches, scents and scenes from cafes lining local plazas delight your senses as you stroll through narrow cobblestoned streets with music at every corner.
Cuba has nine UNESCO World Heritage Sites, seven for culture and two for natural significance. One of the most fascinating of these is Valle Viñales, a primary tobacco growing region of Cuba surrounded by huge limestone monoliths called magotes.  Because of its World Heritage Site status, farming practices are done in the old way with double-yoked oxen and no herbicide or pesticide applications. Exploring via horseback, hiking, or riding in a horse-drawn carriage are wonderful ways to enjoy the tobacco and coffee fields while learning about seasons and cycles of companion planting, growth, and harvesting. The magotes offer a surprising natural environment experience of the limestone caves and their flora and fauna.
Cuba is an island paradise with spectacular tropical flora and fauna awaiting you, especially in the Ciénega de Zapata and Parque de Alejandro Humboldt, wildlife preserves in central and eastern Cuba.  The endangered Cuban crocodile is often seen jumping from the water to catch...not human observers, but rodents or birds for a snack. Also in Zapata, and the Rio Maximo Wildlife Preserve, are seen thousands of nesting American flamingos, about 70,000!  The tocororo, the Cuban trojan, is Cuba's national bird, a striking red, white and blue passerine bird seen all over the island. The smallest bird in the world, the zunzuncito, or bee hummingbird enjoys the nectar of hundreds of endemic species of orchids and other flowers of the island.
For a full Cuban experience, include the oriente, the east, to experience Guantanamo, Holguin, Baracoa, and Las Tunas.  The diversity of the country is vast – in culture, people, landscape, flora and fauna and a venture to the east enriches all Cuba has to present to you.
While in Cuba, we live with local families in casas particulares, homes designed to accept guests, eat with our adopted Cuban families or in paladares, privately owned restaurants, and interact with local communities while we enjoy all of the marvel Cuba has to offer.
Without a doubt, Cuba is one of those places that should be at the top of everyone's life list as a place to visit, get to know, and enjoy!  The friendliest, most welcoming and generous people I have ever met are in Cuba and it has never failed to fascinate and inspire me!
Colonial, UNESCO World Heritage Sites, Natural Wonders of Cuba
All Soulful Traveling itineraries are exclusive and customized for you and your group.  The following are examples to get your creative juices flowing. As with every Soulful Traveling experience, we support local communities by participating in programs identified by the inhabitants of the area as we immerse ourselves in the beautiful and warm Cuban culture. Any of the locations we visit are ideal for exceptional friend or family gatherings, fitness, relaxation, stress relief, or personal rejuvenation experiences, or growth coaching/yoga retreats. We have certified instructors and facilitators to guide your personal growth or you can bring your own to lead your group. Give us a call and we'll work together to craft your exceptional journey!
The Best of Havana and Viñales (7 days)
This journey will take you into the heart of Habana Vieja, exploring the architecture, culture, and beauty of the colonial city.  You will have the opportunity to learn about the Orisha religion with its African roots, Cuban history, the revolution and its impact on Cuba today, visit old forts, and support the Cuban people as you enjoy the hospitality of their homes and meals you will be provided. Of course, you will have an opportunity to ride in a vintage American car along the malecón, the drive along the Havana Harbor, and to visit important historical sites within Havana. We will spend a day doing Ernest Hemingway and visit his lovely home, Finca la Vigía, and his favorite hangouts including La Floridita for his signature daiquiri and La Bodeguita del Medio for his mojito.  Fusterlandia is a favorite place to visit with its Dr. Seuss-like mosaic tile art within Fuster's home as well as in the entire neighborhood.  On our journey to Vinales, we will visit Las Terrazas National Park, a beautiful mountainous forest where we will see many bird species including the red, white, and blue Cuban trogan, or tocororo, the national bird of Cuba.  In Viñales, you will experience the unique natural beauty of unbelievable karst formations know as mogotes as you explore coffee and tobacco plantations hiking, via horseback or cart, and local taxis.
Day 1 – Arrival in Havana; Check into your casa particular (your accommodations in Cuba); Brief introduction to Habana Vieja with evening meal and orientation
Day 2 – Explore Havana Vieja with walking exploration and enjoy the mosaic tile wonderland of José Fuster's Fusterlandia, a barrio experience.
Day 3 – Ernest Hemmingway Day with some free time to explore Habana Vieja on your own
Day 4 – Transfer to Vinales with stop at Las Terrazas National Park, introduction to Viñales and salsa dance classes
Day 5 – Horseback riding, hiking, or carriage treks in tobacco and coffee plantation, sunset on a mogote
Day 6 – Cave and mogote explorations
Day 7 – Return to Havana to Jose Marti International Airport
The Best of the East: Exploring Cuba's Oriente (5-11 days)
This experience can be a stand-alone or combined with any part of Cuba. Beautiful historic and breathtaking environmental locations are found within the five provinces of the Oriente – Las Tunas, Granma, Holguín, Santiago de Cuba, and Guantánamo Provinces. The colonial communities of Bayamo, Guantanamo, Baracoa, Holguin, Santiago de Cuba, and Las Tunas, share history and culture unique to the Oriente. The fascinating wonders of Yunque of Baracoa and Alejandro Humboldt National Park will leave you in awe of the diverse landscapes and sheer natural beauty of the areas.  Enjoy horseback riding in the Oriente tobacco farms to top off your amazing experience. Flights from Havana to Guantanamo give you more time to experience the Oriente as driving distances are long.  The number of days in the area is flexible and determined by the various activities in which you want to participate. As with all Soulful Traveling experiences, there are community support activities determined by the locals of the communities in which we visit. Contact us with an idea of how many days you want to spend in the Oriente, where you want to go, what you want to do, and we will work with you to develop a unique and exciting itinerary just for you and your group.
Colonial Cuba (4-7 days)
Mysteries, adventure, rum, tobacco, death and intrigue. Cuba's history is vast, complex, and has brought the country to be what it is today.  Explore colonial Cuba as you learn about this spectacular country's history, how rum and tobacco have influenced love affairs, war, governmental regimes, and development.  This experience focuses on Habana Vieja, Viñales, and Trinidad or Cienfuegos. Contact us directly for detailed itinerary information customized for what you want to see and do!